Ready for a round-up of my best reads this month so far? These are considered more Adult Romances, couples are above 30-years old. I'm moving some of my reviews from goodreads, so if you've read them there, it's more of the same thing here.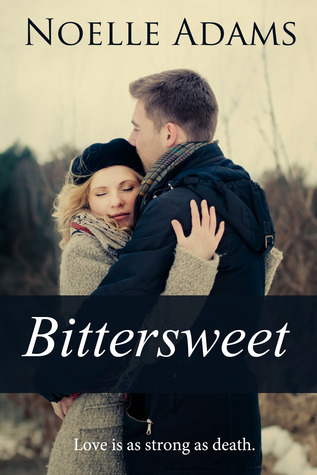 Bittersweet by Noelle Adams
I was debating how to rate this, definitely four stars but after reading through a couple of scenes and how they affected me, I've decided to give it a full five star. The book was aptly titled because that's how I felt when I was reading it. The story is about a widow, Zoe and how she tries to move on. Her husband's cousin, Adam tries to help her cope with hurdles of dealing with the loss of her husband, Josh — what to do with Josh's company, making decisions on buying a house, even babysitting her baby so she can have a girl's night out. What we see in the beginning was, Adam and Zoe met each other first (5 years before) and were more like lunch buddies in Zoe's mind because Adam never asked her out. After almost of month, Zoe meets Josh during one of those lunches and Josh wastes no time in sweeping her off her feet. When Josh and Zoe get together, Adam has a falling out with Josh and has been distant ever since. So now he is back in Zoe's life helping her out.
Again, this is classic Noelle Adams style. Adam shows much restraint in expressing his feelings in words. But it wasn't until he sees Zoe with another man that he loses that restraint. Adam is such a strong man, but he feels deeply but has trouble acting on those feelings preferring to be patient. And those feelings are very sweet. The way Zoe and Adam work to have a relationship is very believable. I like the author's heroines because it's not insta-love, there is some cluelessness which I find cute.
There are some slow parts, which was why I was hovering on rating, but I really loved this book.
Arouse by Nina Lane
This was one angsty book given that it was about a married couple. You would think when you're married, there will be less angst. I do think it depicts the realistic progression of being married. Needs and wants change and the other partner is not willing to give in, and it's worse if you discover the person you married has been keeping a big secret. After five years of being together, that is unacceptable. And I understand Liv's motivations and what had happened afterwards. I didn't understand Dean's logic for keeping the truth from her. I do like that we get both of their point of views otherwise Dean would have come across as an ass. I did not like what their best friend Kelsey did and how Dean had reacted but again, it was realistic enough. This was a great read and sex scenes were well written and steamy.
Unfortunately, this has a cliffhanger. Classified as HFN.

Allure by Nina Lane
Five freaking stars. I love Dean and Liv. My heart breaks for their struggles as a married couple, their doubts and insecurities just make the story so real. I really loved Liv in this book, she was the strong one, the reasonable one and I loved her manifesto and her cute artwork. Dean has to let go of his past. There is no doubt they love each other so much, but he has to be less overprotective and allow Liv to spread her wings a bit. I'm also glad that Liv told Dean off about how he uses sex to avoid discussing their problems. I agree that I don't see them connecting on an emotional level, and I think it's because Dean wants to protect Liv from hurt but what's happening is he ends up hiding things from her and then when she finds out, she ends up more hurt anyway. We get glimpses into their past and how they fell in love. I've never been so invested in a couples HEA as I am with Dean and Liv, they truly deserve one. I normally hate books with cliffhangers, the ending is HFN. But I am excited about it. I fully agree with Liv's decision and I'm 100% sure it would be for the best. Bring on the third book!

Protecting What's His by Tessa Bailey
I think Tessa Bailey is my new auto-buy author. This was one hot book, an Alpha-Male and one in uniform? One who's ultra-protective with a jealous streak? Extra sizzling points. I love her writing style, it was very engaging. I did not skim at all. Derek is a lieutenant with the Chicago PD and Ginger is on the lam with her sister after lifting 50 grand from a gangsta. I like Ginger, she had a lot of sass and was able stand up to Derek. Anyway, the foreplay alone before they even get to actual sex, was extra steamy.
So yes, I'm looking forward to her next book.